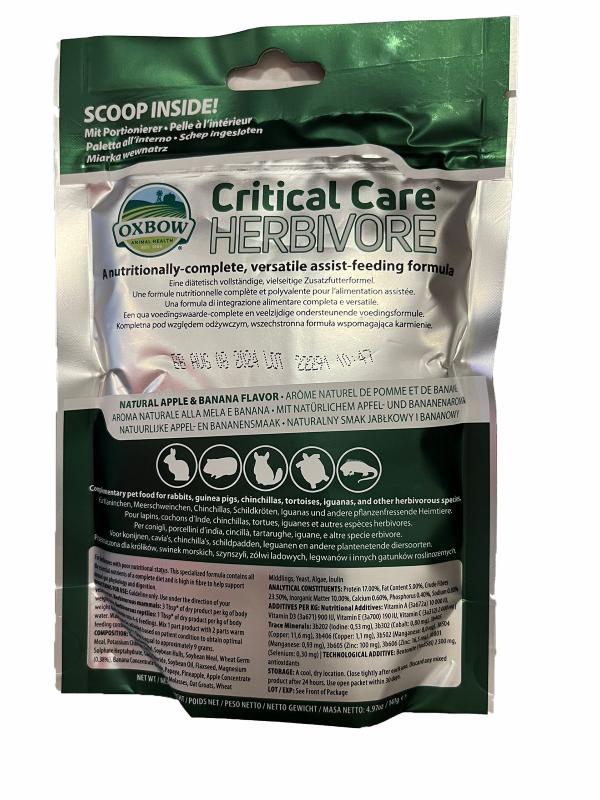 Critical Care® Herbivore (smaak apple/banana) zijn complete voedingen speciaal voor kleine herbivoren die niet willen of kunnen eten als gevolg van ziekte, operatie of ondervoeding. Uitgebalanceerde voeding is juist belangrijk bij ziekte of herstel, en deze voeding bevat ruim 25% vezels en een combinatie van voedingsstoffen die het herstel optimaal ondersteunt. Daarbij lijkt het voer zowel in smaak als in samenstelling op het natuurlijke dieet van kleine herbivoren.
Het is eenvoudig te mengen en aan uw huisdier te geven en ondersteunt wanneer dieren voedsel niet of moeilijk kunnen opnemen. Bijvoorbeeld bij tandproblemen, oudere dieren, spenen en na chirurgie. Tot slot wordt het voer goed verdragen waardoor er geen stress ontstaat rondom eten.
Critical Care® Herbivore moet gebruikt worden tot het huisdier de normale voeding weer goed opneemt en zijn normale conditie en gewicht weer heeft.
| | |
| --- | --- |
| Werkzame stof(fen): | Timothee gras, sojapeulen, tarwekiemen, havervliezen en -zemelen, grof gemalen tarwemeel, soja-eiwittenextract, zout, suikerrietstroop, gist, vitamine A, vitamine C (L-ascorbine zuur) vitamine D3, vitamine E (alpha-tocoferolacetaat),koper (als koper-II-sulfaat), pentahydraat. |
| Verpakking: | 141 g |
| Document(en): | Datasheet get_app |