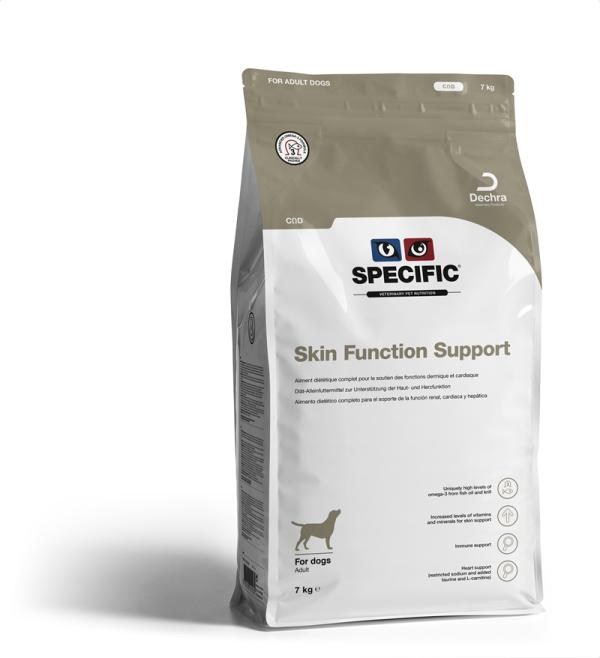 SPECIFIC® Skin Function Support (COD) is een complete, uitgebalanceerde voeding voor honden die de huid ondersteunt bij huidaandoeningen en overmatige haaruitval. Het dieet bevat een hoog gehalte aan omega-3 vetzuren afkomstig uit vis, en toegevoegde β-1,3/1,6-glucanen. Voor ondersteuning van het behoud van een gebalanceerd immuunsysteem en een ideaal gewicht.
| | |
| --- | --- |
| Ingrediënten: | Tarwe, rijst, vismeel, maïseiwit, visolie, eipoeder, varkensvet, aardappeleiwit, gehydrolyseerd dierlijk eiwit, mineralen, Antarctische krill, vitaminen en spoorelementen (inclusief gecheleerde sporenelementen), gist (inclusief bron van ß-1,3/1,6-glucanen), cellulosepoeder, borage olie, psyllium husk, taurine, L-carnitine, rozemarijn extract. Natuurlijke antioxidanten (tocopherolen, rozemarijn extract en vitamine C). Bevat geen toegevoegde kunstmatige kleur- en smaakstoffen |
| Aanbevolen voor: | Allergische dermatitis veroorzaakt door atopie of vlooienallergie. Herstel, post-operatief, cachexie (gerelateerd aan kanker of hartfalen) en anorexie. Hartfalen (zonder gelijktijdig optredend nierfalen). Huid- en vachtproblemen die verbeteren bij een verhoogde. inname van huidgerelateerde nutriënten zoals meervoudig onverzadigde vetzuren, vitaminen en mineralen. Immuungerelateerde aandoeningen en ontstekingsziekten die verbeteren door inname van een hoog gehalte omega-3 vetzuren, zoals astma, colitis. Kanker. Dagelijkse voeding voor gezonde honden. |
| Niet aanbevolen voor: | Honden met stollingsstoornissen. Honden met hyperlipidaemie. |
| Verpakking: | 2kg, 7 kg, 12 kg |
| Datasheet: | Download get_app |
Uniek hoge gehalten omega-3 vetzuren EPA en DHA uit visolie en krill en het omega-6 vetzuur GLA uit borage olie. Deze vetzuren kunnen de immuunrespons en lichaamsprocessen ondersteunen doordat de eicosanoïden productie wordt gewijzigd. Hoge gehaltes aan EPA, DHA en GLA zullen zorgen voor een ondersteuning van de huidfunctie bij huidaandoeningen en overmatige haaruitval.
SPECIFIC® CΩD Skin Function Support bevat beta-glucanen en verhoogde gehalten zink, selenium, arginine en omega-3 vetzuren die het immuunsysteem ondersteunen. Beta-glucanen kunnen binden aan macrofagen en zodoende het immuunsysteem activeren. Daarbij wordt de immuunrespons ondersteund en wordt de cytokine productie gewijzigd.
De hoge energiedichtheid, de hoge concentratie essentiële voedingsstoffen, de zeer goede verteerbaarheid en uitstekende smakelijkheid ondersteunen bij herstel na ziekte, operatie, verwondingen of perioden van stress. De uniek hoge gehalten omega-3 vetzuren ondersteunen bij aan kanker of hartfalen gerelateerde cachexie. De verhoogde gehalten immuun-ondersteunende nutriënten ondersteunen de immuunrespons voor verhoogde afweer bij infecties.
Aan het dieet zijn L-carnitine en taurine toegevoegd om de hartspierfunctie te ondersteunen. Het gematigde gehalte natrium helpt waterretentie verminderen en bevordert een normale bloeddruk. In combinatie met een hoog gehalte omega-3 vetzuren dient dit dieet als nutritionele ondersteuning voor honden met een verminderde hartfunctie; het helpt de vetvrije massa op peil houden, bevordert een normale eetlust en een normaal hartritme.
De huid heeft een actieve stofwisseling en grote behoefte aan huid-gerelateerde nutriënten. De verhoogde gehalten meervoudig onverzadigde vetzuren, het totaal aan vetten, vitamine A, E en B complex, eiwit, zink en selenium bevorderen een gezonde huid en mooie vacht.