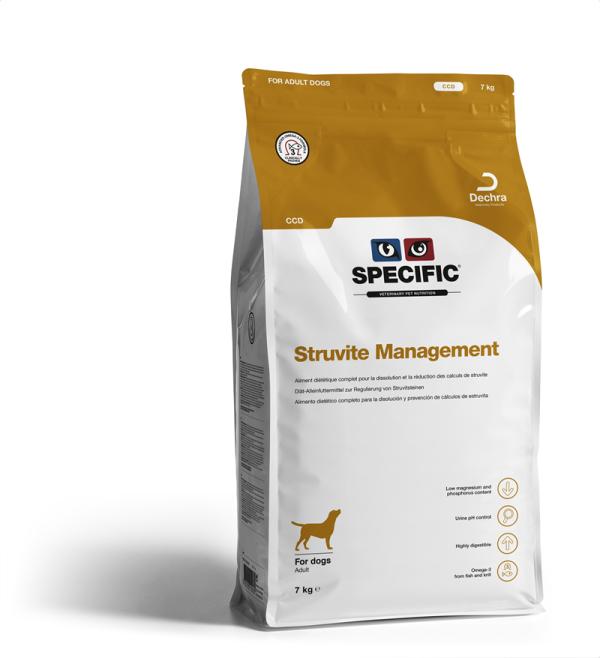 SPECIFIC® Struvite Management (CCD) is een complete dieetvoeding voor volwassen honden die struvietstenen oplost en het risico op herhaalde struvietsteenvorming vermindert.
| | |
| --- | --- |
| Ingrediënten: | Maïszetmeel, tarwe, maïseiwit, varkensvet, maïs, eipoeder, mineralen, vismeel, gehydrolyseerd dierlijk eiwit, aardappeleiwit, Antarctische krill, vitaminen en spoorelementen, (inclusief gecheleerde sporenelementen), cellulosepoeder, gist, methionine, visolie, psyllium husk, rozemarijn extract. Natuurlijke antioxidanten (tocopherolen, rozemarijn extract en vitamine C). Bevat geen toegevoegde kunstmatige kleur- en smaakstoffen. |
| Aanbevolen voor: | Oplossen en preventie van struvietstenen bij volwassen honden. |
| Niet aanbevolen voor: | Urolithiasis als gevolg van calciumoxalaat, ammoniumuraat of cystine. Gelijktijdige toediening van urineverzuurders. Metabole acidose. Honden met hyperlipidaemie of pancreatitis. Pups en drachtige of zogende teven. |
| Verpakking: | 2kg, 7 kg, 12 kg |
| Datasheet: | Download get_app |
Dit dieet bevat een verlaagd gehalte aan magnesium en fosfor (bestanddelen van struvietkristallen) waardoor struvietkristallen en struvietstenen oplossen en voorkomen worden.
In urine met een pH lager dan 6,4 lossen bestaande struvietkristallen op en wordt het risico op neerslag van nieuwe struvietkristallen geminimaliseerd.
De zeer goed verteerbare ingrediënten van hoogwaardige kwaliteit zorgen voor een maximale opname van voedingsstoffen uit de voeding, waardoor er minder feces wordt geproduceerd.
EPA en DHA zijn omega-3 vetzuren met een ondersteunend effect op het behoud van gezonde gewrichten, een gezonde huid en een mooie vacht.