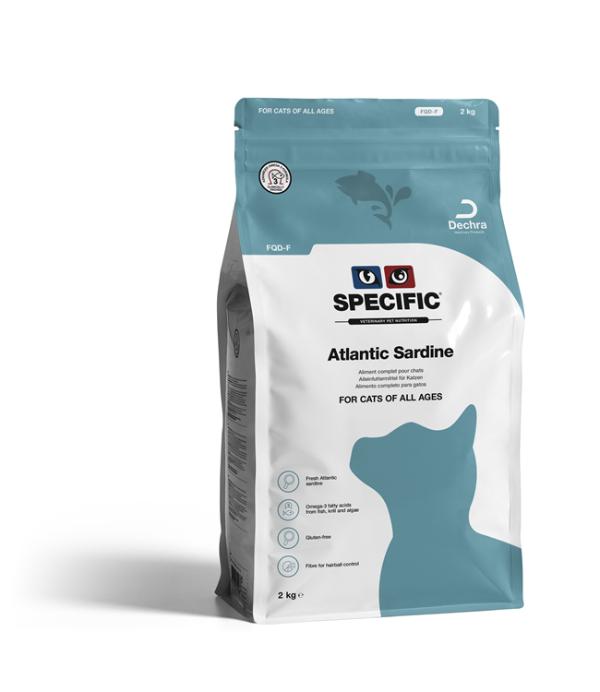 SPECIFIC® Atlantic Sardine (FQD-F) is een compleet en uitgebalanceerd diervoeder voor katten. Deze smakelijke voeding bevat verse sardines, voorziet in alle voedingsbehoeften van katten en draagt bij aan hun gezondheid.
Ingrediënten:

Verse vis, maïseiwit, vismeel, gehydrolyseerd zalmeiwit, erwten, aardappeleiwit, erwtenzetmeel, cellulosepoeder, eipoeder, visolie, varkensvet, gehydrolyseerd dierlijk eiwit, vitaminas e oligoelementos (incluindo oligoelementos quelatados), mineralen, Antarctische krill, fructo-oligo-sachariden, psyllium husk, taurine, gist (bron van β-1,3/1,6-glucanen), methionine, L-carnitine, groene thee extract, granaatappel extract, cranberry extract, rozemarijnextract. Natuurlijke antioxidanten (tocopherolen en vitamine C). Bevat geen toegevoegde kunstmatige kleur- en smaakstoffen.

Aanbevolen voor:
Dagelijkse voeding voor gezonde katten
Gluten-vrij voor katten met een glutenallergie of -intolerantie
Verpakking:
2kg, 3x2 kg
Datasheet:
Download get_app
Bevat vers gevangen MSC gecertificeerde sardine als duurzame bron van hoogwaardige eiwitten en omega-3 vetzuren en draagt bij aan een uitstekende smakelijkheid.
Bevat een hoog gehalte aan omega-3 vetzuren (EPA en DHA) gewonnen uit vis en krill. EPA en DHA zijn beide omega-3 vetzuren die effect hebben op het onderhouden van een gezonde huid, de vacht en de gewrichten.
Op basis van maïs en rijst als koolhydraatbronnen, het dieet is glutenvrij en is daarom geschikt voor katten met glutenallergie of -intolerantie.
Een hoger vezelniveau bevordert de uitscheiding van ingeslikte haren via de ontlasting en vermindert de vorming van haarballen.