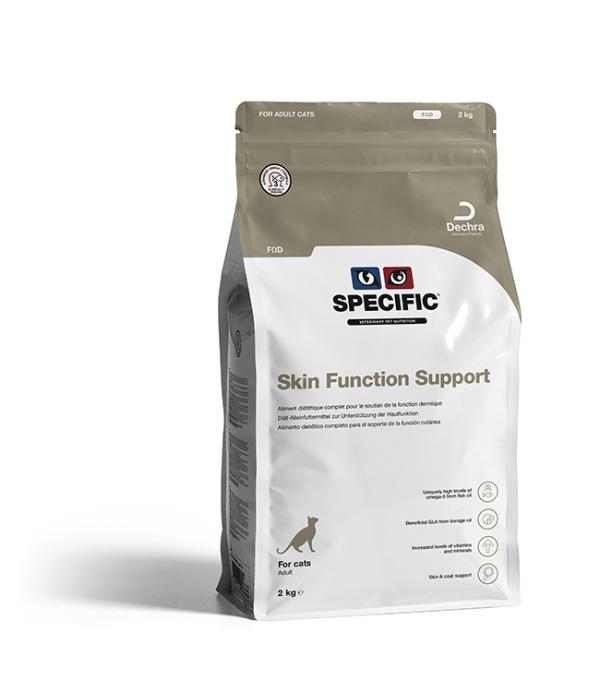 SPECIFIC® Skin Function Support (FOD) is een complete dieetvoeding voor volwassen katten die het functioneren van de huid ondersteunt bij huidaandoeningen en overmatige haaruitval.
| | |
| --- | --- |
| Ingrediënten: | Vismeel, maïseiwit, maïs, graan, rijst, visolie, varkensvet, cellulosepoeder, gehydrolyseerd dierlijk eiwit, aardappeleiwit, maïszetmeel, mineralen (inclusief triptotassium citraat), vitaminen en spoorelementen (inclusief gecheleerde sporenelementen), methionine, ammonium chloride, borage olie, psyllium husk, taurine. Natuurlijke antioxidanten (tocopherolen, rozemarijn extract en vitamine C). Bevat geen toegevoegde kunstmatige kleur- en smaakstoffen. |
| Aanbevolen voor: | Allergische dermatitis veroorzaakt door atopie of vlooienallergie. Huid- en vachtproblemen die verbeteren bij een verhoogde inname van meervoudig onverzadigde vetzuren, vitaminen en spoorelementen. Immuungerelateerde aandoeningen en ontstekingsziekten die verbeteren door inname van een hoog gehalte omega-3 vetzuren, zoals astma, colitis. Dagelijkse voeding voor gezonde katten. |
| Niet aanbevolen voor: | Katten met immuundeficiëntie. Katten met stollingsstoornissen. Jonge kittens en drachtige of zogende poezen. |
| Verpakking: | 2kg, 3x2 kg, 400 g |
| Datasheet: | Download get_app |
Uniek hoge gehalten omega-3 vetzuren EPA en DHA uit visolie. Deze vetzuren kunnen de immuunrespons en lichaamsprocessen ondersteunen doordat de eicosanoïden productie wordt gewijzigd. Hierdoor wordt de huid- en vachtconditie van katten met atopie ondersteund.
Uniek hoge gehalten van het omega-6 vetzuur GLA uit borage olie. Ook GLA kan de immuunrespons en de lichaamsprocessen ondersteunen doordat de eicosanoïden productie wordt gewijzigd.
De huid heeft een actieve stofwisseling en grote behoefte aan huid-gerelateerde nutriënten. De verhoogde gehalten meervoudig onverzadigde vetzuren, vitamine A, E en B complex, zink en selenium bevorderen een gezonde huid en mooie vacht.
Het dieet is zeer smakelijk en is een makkelijke manier om katten extra vetzuren te geven.