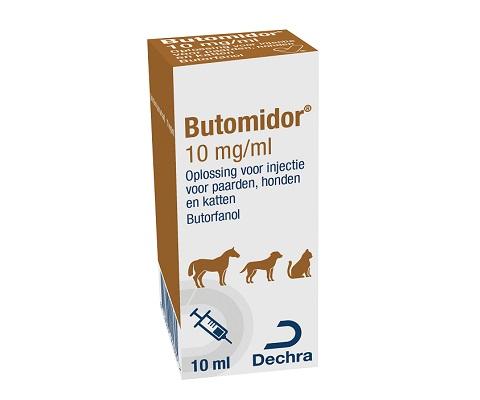 PAARD

Als analgeticum

Voor kortdurende verlichting van pijn, zoals koliek van gastrointestinale oorsprong.

Als sedativum en pre-anestheticum

In combinatie met Alpha2-adrenoceptor agonisten (detomidine, romifidine, xylazine): Voor therapeutische en diagnostische procedures zoals kleine chirurgische ingrepen bij het staande dier of beteugeling van onhandelbare patiënten.

HOND/KAT

Als analgeticum

Voor verlichting van matige viscerale pijn, bijvoorbeeld pre- en post-operatieve of post-traumatische pijn.

Als sedativum

In combinatie met 2-adrenoceptor agonisten (medetomidine).

Als pre-anestheticum

Onderdeel van een anesthetisch regime (medetomidine, ketamine).
| | |
| --- | --- |
| Actives | Butorfanol |
| Verpakking | 10 ml |
| Wachttijd | Paard: (Orgaan)vlees: nul dagen. Melk: nul uur |
| Documents: | SPC get_app |