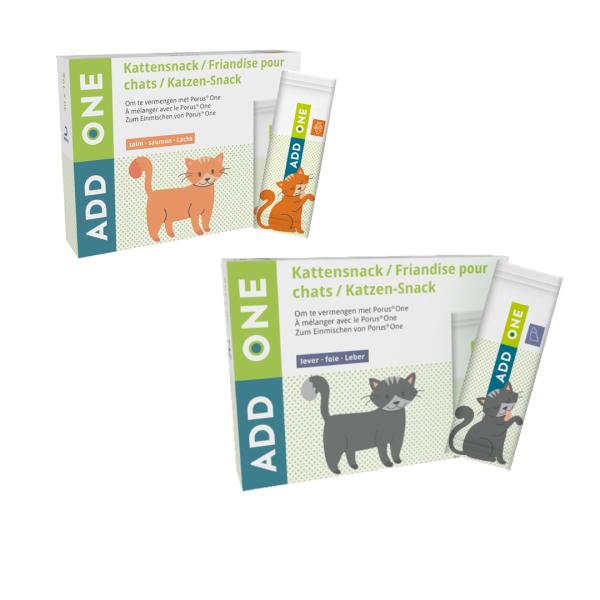 Add One is samen met dierenartsen ontwikkeld om de toediening van Porus One te vergemakkelijken. Wanneer katten alleen droogvoer krijgen, is het vaak lastig om aanbevolen supplementen en/of medicatie toe te dienen. Ook hier komt Add One van pas. 
Add One is een heerlijke kattensnack. Elk zakje Add One bevat een portie romige, smakelijke zalm- of leversaus. Add One bevat veel vocht en neemt daarom gemakkelijk de Porus One op; toediening wordt zo gemakkelijker gemaakt! Add One bevat weinig calorieën (minder dan 10 kcal per zakje) en bevat geen toegevoegde suiker, kleur- en smaakstoffen of conserveringsmiddelen.
​Bewaar koel en droog. Geef dit product altijd bij kampertemperatuur en zorg dat de kat altijd voldoende vers drinkwater heeft.
Werkzame stof(fen):

Ingrediënten - zalm:
Vlees en dierlijke bijproducten, vis en vis bijproducten, melk en melkbijproducten, oliën en vetten, inuline (0,1%).

Analytische bestanddelen - zalm:
Ruw eiwit 4,0%, vocht 87,0%, ruw vet 3,5%, ruwe as 2,0%, ruwe celstof 0,2%, omega-3 vetzuren 0,2%.

Toevoegingen - zalm:
Nutritionele toevoegingsmiddelen/kg: taurine 200 mg.

​​Ingrediënten - lever:
Vlees en dierlijke bijproducten (6% lever), plantaardige bijproducten, melk en melkproducten, oliën en vetten, inuline (0,1%).

Analytische bestanddelen - lever:
Ruw eiwit 4,0%, vocht 87,0%, ruw vet 3,5%, ruwe as 2,0%, ruwe celstof 0,2%.

Toevoegingen - lever:
Nutritionele toevoegingsmiddelen/kg: taurine 200 mg.

Verpakking:
30 x10 g